Latest News:
Unvergessliche Operettenmelodien
Lehar - Kalman - Stolz
Classic Broadway
Schlager von damals
Audio Sampler
Click on titles below to play:
Heute nacht oder nie

3:13

Mischa Spolianky
Text: Marcus Schiffner
Von das Film "Lied einer Nacht". 1932 (UFA)

Komm Zigány

3:43

Emmerich Kálmán
Text: Julius Brammer & Alfred Grünwald
Aus der Operette: "Gräfin Mariza"

Dein Ist Mein Ganzes Herz

3:27

Franz Lehar
Text: Viktor Leon von Ludwig Herzer und Fritz Beda Löhner
Aus der Operette: "Das Land des Lächelns"

O What a beautiful mornin'

2:28

Richard Rodgers
Text: Oscar Hammerstein II
Aus: "Oklahoma"

Being Alive

2:28

Stephen Sondheim
Aus dem Musical: "Company"

She wasn't you

2:21

Burton Lane
Text: Alan Jay Lerner
Aus dem Musical: "On a Clear Day You Can See Forever"

Non ti scordar di me

3:14

Ernesto Di Curtis
Text: Domenico Furno

O Sole mio

2:60

Edwardo di Capua
Text: Alfredo Emmanuelle and Giovanni Capurro
Video Sampler
Length 00:00
Museum für Kunst und Gewerbe
Spiegelsaal, Hamburg 2019
Click titles below to jump to selection:
O Sole mio
Get me to the Church on time
Ob blond, ob braun
Wunderbar
Wien Wien, nur du allein
Reich mir zum Abschied noch einmal die Hände
John Thade celebrates the most popular Franz Lehar Operettas with arias from Das Land des Lächelns, Der Zarewitsch and Die Lustige Witwe.

Included are selections from Emmerich Kalman's waltz and fun-filled Operettas Die Csardasfürstin and Gräfin Mariza.

John is happy to report that by audience request, included in the concerts are also memories about his childhood and heritage, "Das Traumpaar der UFA filme, Oper und Operette: Marta Eggerth und Jan Kiepura".

Always part of any concert are Classic Broadway Favorites from West Side Story, My Fair Lady, Carousel, Les Miserables and Kiss Me, Kate.
With special thanks to the publishers: Glocken Verlag and Josef Weinberger Ltd, London

CD RELEASE IN JUNE
Purchase and other information will be available here on the website towards the end of May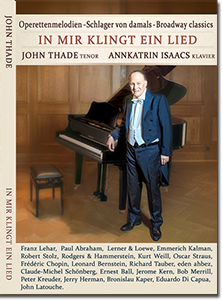 Franz Lehar,
Paul Abraham,
Rodgers & Hammerstein,
Lerner & Loewe,
Emmerich Kalman,
Robert Stolz,
Leonard Bernstein,
Peter Kreuder.