Unvergessliche Operettenmelodien
Lehar - Kalman - Stolz
Classic Broadway
Schlager von damals

Latest News:
John Thade celebrates the most popular Franz Lehar Operettas with arias from Das Land des Lächelns, Der Zarewitsch and Die Lustige Witwe.

Included are selections from Emmerich Kalman's waltz and fun-filled Operettas Die Csardasfürstin and Gräfin Mariza.

John is happy to report that by audience request, included in the concerts are also memories about his childhood and heritage, "Das Traumpaar der UFA filme, Oper und Operette: Marta Eggerth und Jan Kiepura".

Always part of any concert are Classic Broadway Favorites from West Side Story, My Fair Lady, Carousel, Les Miserables and Kiss Me, Kate.
With special thanks to the publishers: Glocken Verlag and Josef Weinberger Ltd, London

Hör proben
Click on titles below to play:
Tanzen Möcht ich

1:53

Aus "Die Csardasfürstin"
Musik: Emmerich Kalman
Text: Leo Stein und Bela Jenbach

Robert Stolz Medley

6:15

1. Zwei Herzen im Dreivierteltakt
Text: Walter Reisch, Armin L. Robinson 2. Die ganze Welt ist himmelblau
Text: Robert Gilbert 3. Im Prater blüh'n wieder die Bäume
Text: Kurt Robitschek 4. Adieu mein kleiner Gardeoffizier
Text: Walter Reisch 5. Auf der Heide blüh'n die letzten Rosen
Text: Bruno Balz

Grüsse mir mein Wien

5:00

Emmerich Kalman
Text: Julius Brammer und Alfred Grünwald
Aus: "Gräfin Maritza"

O Sole mio

2:60

Edwardo di Capua
Text: Alfredo Emmanuelle and Giovanni Capurro

Immer und ewig

3:45

Peter Kreuder
Text: Hans Fritz Beckmann
Aus dem Film: "Liebesgeschichten"

In mir klingt ein Lied

3:51

Frédéric Chopin
Text: Ernst Marischka
Amongst our audience favorites
Many more are up in the
Audio section
Video Sampler
Loading Video...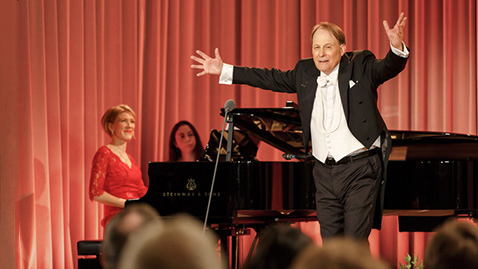 "O sole mio"
"Reich mir zum Abschied noch einmal die Hände"
Tip: For latest updates to our Website, please always refresh your browser.