x

Dear Friends,
We are continuously uploading new recordings every few weeks - ongoing into 2019
What's coming? French & Italian all-time favorite songs und mehr beliebten Operettenmelodien
Sincerely,
john
Unvergessliche Operettenmelodien
Lehar - Kalman - Stolz
Classic Broadway - Movie themes
Schlager von damals

Latest News:
John Thade celebrates the most popular Franz Lehar Operettas with arias from Das Land des Lächelns, Der Zarewitsch and Die Lustige Witwe.

Included are selections from Emmerich Kalman's waltz and fun-filled Operettas Die Csardasfürstin and Gräfin Mariza.

John is happy to report that by audience request, included in the concerts are also memories about his childhood and heritage, "Das Traumpaar der UFA filme, Oper und Operette: Marta Eggerth und Jan Kiepura".

Always part of any concert are Classic Broadway Favorites from West Side Story, My Fair Lady, Carousel, Les Miserables and Kiss Me, Kate.
With special thanks to the publishers: Glocken Verlag and Josef Weinberger Ltd, London

Video Sampler
Loading Video...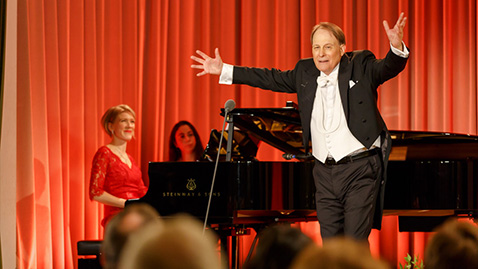 "O sole mio"
"Reich mir zum Abschied noch einmal die Hände"
Hör proben (3 minuten)
Ob Blond, ob braun, ich liebe alle Frauen

Aus der Film Ich liebe alle frau'n
Robert Stolz 1935

Dein ist mein Ganzes Herz

Franz Lehar 1931
Aus die Operette Das Land des Lächelns

O Sole Mio

Eduardo di Capua 1898
Amongst our audience favorites
Many more are up in the Audio section
Sincerely, john
Audio Sampler
Emmerich Kálmán Medley

2:54

1. Mädchen gibt es wunderfeine
Text: Leo Stein und Bela Jenbach

~ ~ ~

2. Ganz ohne Weiber geht die Chose nicht
Text: Leo Stein und Bela Jenbach

~ ~ ~

3. Komm mit nach Varasdin
Text: Julius Brammer und Alfred Grünwald

Heute nacht oder nie

3:13

Musik: Werner Richard Heymann
Text: Robert Gilbert
Aus dem Film "Der Kongress tanzt" 1931

Komm, Zigány

3:43

aus "Gräfin Mariza"
Musik: Emmerich Kálmán
Text: Julius Brammer und Alfred Grünwald

Paul Abraham Medley

3:23

1. Blume von Hawaii
Text: Alfred Grünwald, Imre Foldes, Fritz Lohner-Beda

~ ~ ~

2. Ja so ein Mädel, ungarisches Mädel
Text: Alfred Grünwald, Imre Földes, Fritz Lohner-Beda

~ ~ ~

3. Reich mir zum Abschied noch einmal die Hände
Text: Alfred Grünwald, Fritz Lohner-Beda, Imre Földes

Wien, Wien, nur du allein

2:31

Musik: Rudolf Sieczynski
Text: Rudolf Sieczynski

Tanzen Möcht ich

1:53

aus "Die Csardasfürstin"
Musik: Emmerich Kalman
Text: Leo Stein und Bela Jenbach

Non ti scordar di me

3:14

Musik: Ernesto Di Curtis
Text: Domenico Furno

O Sole mio

2:60

Musik: Edwardo di Capua
Text: Alfredo Emmanuelle and Giovanni Capurro

Robert Stolz Medley

6:15

1. Zwei Herzen im Dreivierteltakt
Text: Walter Reisch, Armin L. Robinson

~ ~ ~

2. Die ganze Welt ist himmelblau
Text: Robert Gilbert

~ ~ ~

3. Im Prater blüh'n wieder die Bäume
Text: Kurt Robitschek

~ ~ ~

4. Adieu mein kleiner Gardeoffizier
Text: Walter Reisch

~ ~ ~

5. Auf der Heide blüh'n die letzten Rosen
Text: Bruno Balz

Ob blond, ob braun, ich liebe alle Frau'n

1:40

Musik: Robert Stolz
Text: Ernst Marischka

Franz Lehar Medley

2:26

Musik: Franz Lehar
Text: Viktor Léon and Leo Stein

Das gibt's nur einmal, das kommt nicht wieder

2:47

Aus dem Film "Der Kongress tanzt" 1931
Musik: Werner Richard Heymann
Text: Robert Gilbert

Hi-Lili, Hi-Lo

2:11

Musik: Bronislau Kaper
Text: Helen Deutsch.

Get me to the Church on time

1:39

aus dem Film "My Fair Lady"
Musik: Frederick Loewe
Text: Alan Jay Lerner

Wunderbar

1:39

Musik: Cole Porter
Text: Cole Porter

Movie Theme Medley

8:21

1. Somewhere, My Love
Musik: Maurice Jarre
Text: Paul Francis Webster

~ ~ ~

2. Moon River
Musik: Henry Mancini
Text: Johnny Mercer

~ ~ ~

3. Speak Softly, Love
Musik: Nino Rota
Text: Larry Kusik

~ ~ ~

4. The Third Man
Musik: Anton Karas
Text: Walter Lord

~ ~ ~

5. My Heart Will Go On
Musik: James Horner
Text: Will Jennings

O What a beautiful mornin'

2:28

aus dem Film "Oklahoma!"
Musik: Richard Rodgers
Text: Oscar Hammerstein II

Maria

2:52

Musik: Leonard Bernstein
Text: Stephen Sondheim

Anniversary Song

2:53

Musik: Iosif Ivanovici
Text: Al Jolson and Saul Chaplin

Lazy Afternoon

2:42

Musik: Jerome Moross
Text: John Latouche

Danny Boy

3:23

Musik: An ancient Irish melody
Text: Frederic Weatherly

You'll never walk alone

2:16

Musik: Richard Rodgers
Text: Oscar Hammerstein II

All the things you are

2:40

Musik: Jerome Kern
Text: Oscar Hammerstein II