Unvergessliche Operettenmelodien
Lehar - Kalman - Stolz
Classic Broadway - Movie themes
Schlager von damals

Latest News:
John Thade celebrates the most popular Franz Lehar Operettas with arias from Das Land des Lächelns, Der Zarewitsch and Die Lustige Witwe.

Included are selections from Emmerich Kalman's waltz and fun-filled Operettas Die Csardasfürstin and Gräfin Mariza.

John is happy to report that by audience request, included in the concerts are also memories about his childhood and heritage, "Das Traumpaar der UFA filme, Oper und Operette: Marta Eggerth und Jan Kiepura".

Always part of any concert are Classic Broadway Favorites from West Side Story, My Fair Lady, Carousel, Les Miserables and Kiss Me, Kate.
With special thanks to the publishers: Glocken Verlag and Josef Weinberger Ltd, London

Hör proben
Click below to play selection:
Dein ist mein Ganzes Herz

3:27

Franz Lehar 1931
Aus die Operette Das Land des Lächelns

Ob blond, ob braun, ich liebe alle Frau'n

1:40

Musik: Robert Stolz
Text: Ernst Marischka

Heimat, Deine Sterne

3:40

Werner Bochmann
Text: Erich Knauf

Das gibt's nur einmal, das kommt nicht wieder

2:47

Aus dem Film "Der Kongress tanzt" 1931
Musik: Werner Richard Heymann
Text: Robert Gilbert
Amongst our audience favorites
Many more are up in the
Audio section
Video Sampler
Loading Video...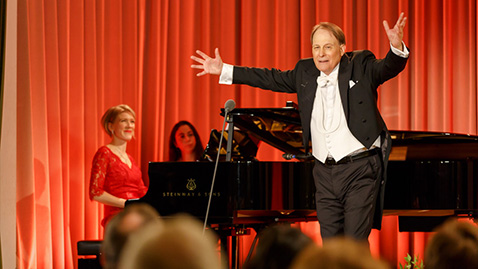 "O sole mio"
"Reich mir zum Abschied noch einmal die Hände"